New Slide and Tilt System extends Widney 's Product Range for the Overseas Emergency Services Market
As a global supplier of precision telescopic slides to the emergency services sector, Widney have now added a new slide and tilt drawer system with a slam lock handle to our extensive range of telescopic slides.
Widney, through our global network of distributors, will be targeting the fire and rescue vehicle manufacturers with the new and improved system.
Some of the main benefits are:
Improved health and safety
Suitable for a variety of locker sizes
Speedy installation
Lightweight construction
Low maintenance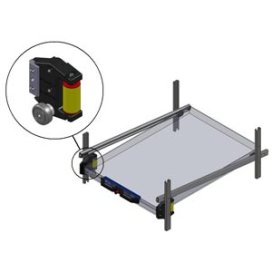 The tip down drawer system is totally interchangeable with current market products and has a number of features, developed from customer feedback, to both improve the function of the product whilst offering competitive pricing.
Used widely in fire and rescue vehicles the slide and tilt system is the optimum way to gain access to equipment mounted above waist height. The tilting action offers the operator complete visibility into the shelf and easy access to equipment that would otherwise be difficult to reach.
The system is particularly effective in the storage of larger items of equipment that need to be viewed for safe removal and lends itself ideally to vehicle applications where utilising the floor to roof space is at a premium.
Developed specifically for fire and rescue vehicles the Widney slide and tilt system can be used in many other vehicle applications.