New Australian Distributor
Widney partners with Mills-Tui Australia Pty Ltd.
Continued global expansion for Widney's sliding products sees the company partnering with Mills-Tui, one of Australia's leading manufacturers of public and private sector specialised vehicles.
The new partnership covering Australia and New Zealand means that Mills-Tui will not only use Widney slides for their own in-house use, but also distribute the products across the agreed territory.
Roger Cox, Global Sales Manager, stated that: "Widney have sold telescopic slides into the Australian market for many years, however new products introduced in 2012 for the emergency services sectors means that the specialist skills and expertise of Mills-Tui offers Widney the local technical support and expertise of a well respected market leader."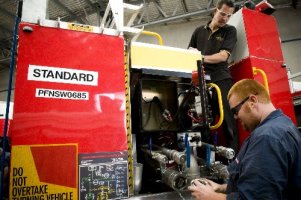 Mills-Tui is one of the largest companies designing and manufacturing heavy specialised vehicles in Australia. Mills-Tui supplies vehicles to both the public and private sectors in areas that include but are not limited to:
Emergency Services - fire appliances, ambulances, mobile incident command units

Resources - mine site ambulances, fire appliances, mine specific activity vehicles

Defence - industry heavy vehicles and maintenance equipment

Transport & Infrastructure - mobile x-ray units, service trucks, mobile clinics, libraries, amenity units
Mills-Tui is proud of its close working relationship with many of Australia's emergency services and has developed and manufactured vehicles and products for most metropolitan and rural fire brigades. All Mills-Tui products are designed to meet customer specific requirements and no two products are the same. Our capacity to respond to customer requirements through product design and performance is a mark of our ability to provide outstanding customer service.